Welcome to the online home of Dennis Winge/ Damodar Das!
Dennis Winge is a professional guitarist living in Ithaca, NY who is actively involved in teaching and performing in a variety of musical settings throughout the Finger Lakes.
Testimonials
"My name is Joshua Fogarty and I manage Monks on the Commons in the Ithaca Marriott downtown on the Commons. We have hosted the Dennis Winge trio for about 5 months now, and I can say without a shadow of a doubt that they are just absolutely sublime. I always look forward to hearing them every week. The rotating cast of musicians that Dennis brings are about as skilled as anyone around, and their attention to the atmosphere is really, really impressive. They have the ability to play at an entrancing ambient level that really encourages conversation, or they can be in a limelight of their own making. If you are looking for an excellent musicianship that will definitely always draw a crowd, look no further than the Dennis Winge trio."
"My name is Bill Mott, the owner of Finger Lakes House in Elmira. We've had [Dennis' Trio] play [on a regular basis] for several months now and we get a good crowd that likes to follow [the band]. They play good music and they play quiet[ly] so people can talk to each other. I've had nothing but good comments about them and highly recommend them to anyone who may want to hire them."
"Hello, my name is Shayne Johnson and I'm the owner of the restaurant of MIX in Ithaca New York. We can't say enough about Dennis Winge and the musicians he surrounds himself with. He championed the concept of our Sunday Jazz and Blues Jam. Which has increased revenue and turned Sunday into an exciting night at MIX. It has been two years and Jazz and Blues night is going strong. I must say
it is refreshing to have a hands-off event each week as Dennis handles all the preparations to the last detail. So, if anyone is looking for fantastic music and a very professional host look no further. We highly recommend Dennis Winge!"
Biography
Before moving to the Finger Lakes in 2012, Dennis Winge was one of the most ubiquitous jazz and pop/rock/soul guitarists in the New York City area and played with musicians who played in bands that featured artists such as Billy Joel, Stan Getz, Paul Simon, James Taylor, Tony Bennett, Herbie Hancock.  He has performed at such prestigious venues as Carnegie Hall, the Los Angeles Music Awards, and in many countries.
In 2010 he discovered 'bhakti' (devotional) yoga and began playing guitar, bass and harmonium as a sideman at Kripalu, Omega, Ananda Ashram, etc.  and was given the spiritual name Damodar Das ("servant of God").  He regularly serves the community in the following musical contexts:
– Dennis Winge Jazz Ensemble

– "The Way" rock cover band (see "The Way" tab above)
– solo performances (instrumental jazz or rock/pop with voice – samples under "audio" tab)
– "Blue Train" blues band (see "Blue Train" tab above)
– Sacred Chanting (see "kirtan" tab above)
– "Mantra Magic" electric kirtan band (see "Mantra Magic" tab above)
– studio/ songwriting services
– host of the Ithaca Jazz and Blues Jam (every Sunday 4 to 7 p.m. at Mix, 205 Elmira Rd. Ithaca)
Winge's latest album, "One Small Step" received rave reviews from such prestigious sources as JazzGuitar.com ("a hugely enjoyable album, with enormous variety in style…intelligently conceived and passionately delivered"), Contemporary Fusion Reviews ("fantastic double-CD…most highly recommended…an energy rating of 4.99″) and Scott Yanow, renowned jazz journalist/historian ("Winge…never seems to run out of inventive ideas…a very enjoyable…set of creative jazz.")  Winge has 4 instrumental albums under his own name to date, the others being "Come Out and Play" (2018), "Just the One of Us" (2016), and "May Your Holidays Be Filled with Love" (2010).
Dennis Winge has studied with some of New York City's finest gui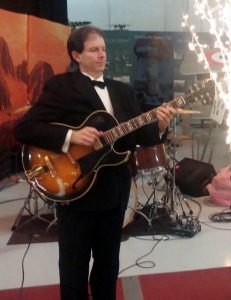 tarists including Jack Wilkins and Ron Parmentier.  Some of the names he has played with in the rock world are Clifford Carter (who played Paul Simon, James Taylor), Jon Cobert (who played with John Lennon), and Cheetah Chrome (who played with punk band The Dead Boys). In jazz he has worked with Bill Crow (who played with Stan Getz, Gerry Mulligan); Gene Bertoncini (who played with Buddy Rich, Tony Bennett); Shunzo Ohno (who played with Wayne Shorter, Herbie Hancock); Bob Meyer (who played with Joe Lovano, John Abercrombie); David Budway (who played with Jeff 'Tain' Watts, Regina Carter).

Winge has played both Republican and Democratic events for New York politicians, including Rudolph Guiliani, Andrew Cuomo, and David Dinkins.  As for off-Broadway productions, Dennis has played in the pit on Les Miserables, All Shook Up, Footloose, 13, Smokey Joe's Cafe, as well as portions of Rock of Ages,   Wicked, Aida, All That Jazz, Jeckyl & Hyde, and In the Heights.
************************
Albums
Dennis has 4 albums out that may be downloaded or streamed at the following links:
One Small Step (2019 double-album of 19 originals with Trio).  Check out the great reviews here.
–—
Come Out and Play (2018 standards live with Trio)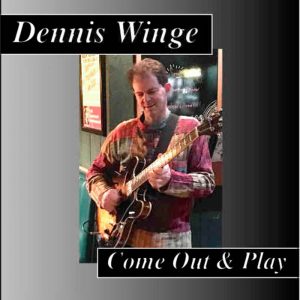 —
Just the One of Us (2017 solo acoustic originals)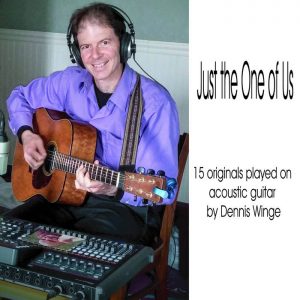 —
May Your Holidays be Filled with Love (2010 holiday music)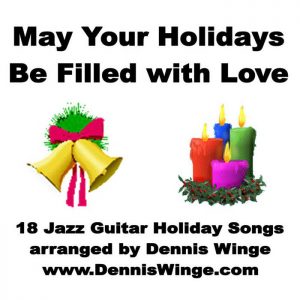 ************************
Click on the 'calendar' tab to see where you can catch Dennis/ Damodar this month.   Thanks for visiting: enjoy!