Welcome to the online home of Dennis Winge!
Wedding Planners & Couples:
In addition to that, my article "Why I Love Playing Weddings" gives lots of insight as to my personal philosophy about playing music for special events, and why it's both a wonderful privilege as well as a responsibility I take very seriously.
Dennis Winge has performed at Carnegie Hall, the L.A. F.A.M.E. Awards, Grassroots Festival, and many other prestigious venues over his 30+ years as a freelance guitarist.
Having started to learn guitar at age 7 and bass at age 12, Dennis has studied with some of NYC's f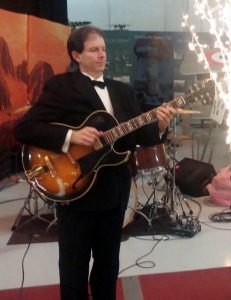 inest jazz and rock guitarists including Ron Parmentier and Jack Wilkins.  Winge played his first bar gig when he was 16, and has been a bandleader since his early 20s, when he headed the main campus function band "The Institutionalized" while attending Manhattan College. Later, he became the musical director for Ikonographics Videos, Inc.
Some of the names he has played with in the rock world are Jon Cobert (who played with John Lennon, Bruce Springsteen); Cheetah Chrome (who played with the Dead Boys); Clifford Carter (who played with Paul Simon, James Taylor, Dolly Parton).
In jazz he has worked with Bill Crow (who played with Stan Getz, Gerry Mulligan); Gene Bertoncini (who played with Buddy Rich, Tony Bennett); Shunzo Ohno (who played with Wayne Shorter, Herbie Hancock); Bob Meyer (who played with Joe Lovano, John Abercrombie); David Budway (who played with Jeff 'Tain' Watts, Regina Carter).
As for off-Broadway productions, Dennis has played in the pit on Les Miserables, All  Shook Up, Footloose, 13, Smokey Joe's Cafe, as well as portions of Rock of Ages,   Wicked, Aida, All That Jazz, Jeckyl & Hyde, and In the Heights.