Customizing the Perfect Music for Your Event
Are you looking for music that:
perfectly suits for your type of event?

your guests will rave about?

is reasonably priced?
Finding the right music for your event does not have to be a struggle.  Dennis Winge and his various bands have played hundreds of weddings, corporate events and private parties over the last 3 decades (see the testimonials at the bottom of each band's page in the List of Services below).
solo or with one of his bands could be an excellent choice for your ceremony, cocktail hour, reception, party or corporate event because you get:
– complete customizability of genre (classic / newer rock, jazz, classical – instrumental or with voice) with a vast repertoire to choose from
– friendly and prompt communication
– reasonable pricing
– music at the perfect volume
– interaction with your guests, when appropriate (people sitting in to sing or play, taking special requests, etc.)
Here's what to do
1. Select what type of entertainment you want from the List of Services below (i.e. solo acoustic, rock cover band, jazz band, etc)
2. Reach out to Dennis directly: click the blue button in the top-right corner of every page.
3. If he is available on the date of your event and it seems like it could be a good fit, you can schedule a free consultation by videoconference or phone so he can hear about your musical vision for your special day.
If you book elsewhere, you may be taking a risk that these elements are not met to yours or your guests' satisfaction such as music that's too loud, doesn't fit your event, is 'cookie cutter,' or has a bandleader who's not flexible or communicative.  Also, contact Dennis ASAP because his schedule can fill up quickly especially during the warmer months!
If you read the testimonials at the bottom of each link below, you'll see that by booking Dennis or one of his bands, you'll feel terrific about how well your event went, you'll have amazing memories for the rest of your life, and you'll be admired by friends, family and colleagues who will be impressed at the quality of your event.
Dennis at Carnegie Hall, New York City, age 20-something.
Monks-on-the-Commons – Ithaca, NY
"My name is Joshua Fogarty and I manage Monks on the Commons in the Ithaca Marriott downtown on the Commons. We have hosted the Dennis Winge trio for about 5 months now, and I can say without a shadow of a doubt that they are just absolutely sublime. I always look forward to hearing them every week. The rotating cast of musicians that Dennis brings are about as
skilled as anyone around, and their attention to the atmosphere is really, really impressive. They have the ability to play at an entrancing ambient level that really encourages conversation, or they can be in a limelight of their own making. If you are looking for an excellent musicianship that will definitely always draw a crowd, look no further than the Dennis Winge trio."
Finger Lakes House – Elmira, NY
"My name is Bill Mott, the owner of Finger Lakes House in Elmira. We've had [Dennis' Trio] play [on a regular basis] for several months now and we get a good crowd that likes to follow [the band]. They play good music and they play quiet[ly] so people can talk to each other. I've had nothing but good comments about them and highly recommend them to anyone who may want to hire them."
Mix – Ithaca, NY
"Hello, my name is Shayne Johnson and I'm the owner of the restaurant of MIX in Ithaca New York. We can't say enough about Dennis Winge and the musicians he surrounds himself with. He championed the concept of our Sunday Jazz and Blues Jam. Which has increased revenue and turned Sunday into an exciting night at MIX. It has been two years and Jazz and Blues night is going strong. I must say
it is refreshing to have a hands-off event each week as Dennis handles all the preparations to the last detail. So, if anyone is looking for fantastic music and a very professional host look no further. We highly recommend Dennis Winge!"
Hosmer Winery – Ovid, NY
"The Way played here today.  It was absolutely terrific, their repertoire was exceptional, just great songs.  Everybody was singing along, dancing, and we were real happy with them.  And we had a lot of diverse people here; we had young people, old people, and everybody enjoyed them thoroughly.  I would recommend them highly." – Cameron Hosmer
Testimonial from Client whose wedding ceremony & reception Dennis played:
"[5 stars].  It was a little nerve wracking to hire a musician for my wedding – but Dennis exceeded all my expectations. I would rate him 10/10 and recommend to ANYONE looking for a wedding musician. Everyone at the wedding loved the music. Thank you for making our day awesome!
Here are the following reasons Dennis is fantastic:
1) Great communication
2) Friendly & easy-going
3) Flexible with requests (especially considering the current state of COVID19.)
4) Professional in both conduct and technical skill.
5) Detailed personal website and many samples on Youtube"
– Amy N., 2020
Testimonial from client whose engagement event Dennis played:
"[5 stars] Dennis did an excellent job performing for a surprise proposal. He learned two new songs that I requested and played them to perfection. He also did quite the acting job to help sell the surprise. I could not have been more pleased with Dennis's musical performance and would highly recommend him for any events! [This customer rated you highly for work quality, professionalism, and responsiveness]." – Arib R.
Dennis' brand new album For Music Geeks Only features a performance track plus educational content on 82 exotic and common musical modes!
Check out Dennis' 2021 album "What Are The Odds?" which got rave reviews from All About Jazz, Contemporary Fusion Reviews, & Jazz Weekly!
Listen to Dennis' interview on the "More Than Music" podcast with Kara Conrad on Spotify or  Apple Podcasts.
A professional guitarist living in Ithaca, NY, Dennis brings:
– decades of musical experience
– a genuine desire to create a win/win situation for venues, patrons, and musicians
– a wide versatility of styles/ bands/ musicians so that he can customize the perfect musical setting for each event/ venue
– a free consultation about finding the perfect music for your event
Dennis Winge has performed at Carnegie Hall, the L.A. F.A.M.E. Awards, Grassroots Festival, and many other prestigious venues over his 30+ years as a freelance guitarist.
Having started to learn guitar at age 7 and bass at age 12, Dennis has studied with some of NYC's f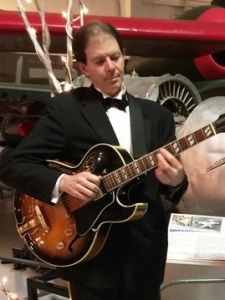 inest jazz and rock guitarists including Ron Parmentier and Jack Wilkins.  Winge played his first bar gig when he was 16, and has been a bandleader since his early 20s, when he headed the main campus function band "The Institutionalized" while attending Manhattan College. Later, he became the musical director for Ikonographics Videos, Inc.
Some of the names he has played with in the rock world are Jon Cobert (who played with John Lennon, Bruce Springsteen); Cheetah Chrome (who played with the Dead Boys); Clifford Carter (who played with Paul Simon, James Taylor, Dolly Parton).
In jazz he has worked with Bill Crow (who played with Stan Getz, Gerry Mulligan); Gene Bertoncini (who played with Buddy Rich, Tony Bennett); Shunzo Ohno (who played with Wayne Shorter, Herbie Hancock); Bob Meyer (who played with Joe Lovano, John Abercrombie); David Budway (who played with Jeff 'Tain' Watts, Regina Carter).
As for off-Broadway productions, Dennis has played in the pit on Les Miserables, All  Shook Up, Footloose, 13, Smokey Joe's Cafe, as well as portions of Rock of Ages,   Wicked, Aida, All That Jazz, Jeckyl & Hyde, and In the Heights.
Winge currently performs at weddings, private parties and events of all kinds throughout the entire Finger Lakes Regions including Ithaca, Binghamton, Syracuse, Rochester, Buffalo, Hornell, Lansing, Cayuga Heights, Trumansburg, Newfield, Brooktondale, Danby, Spencer, Cayuta, Alpine, Montour Falls, Watkins Glen, Cortland, Horseheads, Corning, Elmira etc.
Dennis currently offers three online music courses for all instruments:
For Music Geeks Only (2022 trio album plus educational package for all instruments of exotic and common modes )
What Are the Odds? (2021 trio album
with special guests of "odd meters & other types of fun")
Fly on the Wall (2020 solo guitar album of covers from a variety of genres)
One Small Step (2019 double-album of 19 originals with Trio).
Check out a great review from JazzGuitar.com here and the one from Contemporary Fusion Reviews here.
Dennis also wrote 60% of the material and leads the trio on this debut album from "Not From Brooklyn" (2020 originals):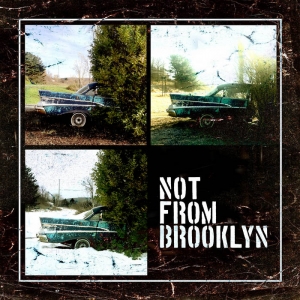 ************************
Click on the calendar to see where you can catch Dennis this month.   Thanks for visiting!