Dennis is the head teacher at Guitar Lessons Ithaca and has over 20 years' teaching experience.  He has helped hundreds of students either become pro players themselves or simply enjoy playing as a hobby.  See article "Why I Love to Teach."
Here is What Dennis' Students are Saying:
What style of guitar are you interested in learning more about?
All Levels – Comprehensive Method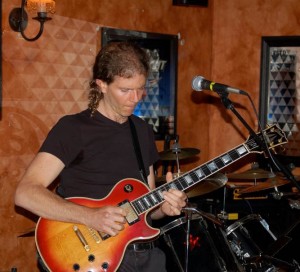 Whether you want to learn jazz, rock, blues, fingerstyle (everything except classical guitar), Dennis is the right person to contact. He is a master of various styles, and is a patient, friendly teacher.
********
Schedule a Free Introductory Lesson with Dennis now by calling:
607-222-3166
or by filling out the form at the bottom of this page
********
The goal is to help you develop your own style by picking and choosing from many different techniques and approaches that best suit your personality and taste.
Dennis' personal influences are everyone from Joe Pass to Joe Satriani. Dennis has said "I've never taught the same lesson twice. It's always about teaching the person rather than the subject. Every lesson is custom-tailored to the specific needs of the student."
If you want fast results in a friendly environment from a full-time pro with over 10 years experience, then you came to the right place!
"To educe means to draw out or evoke that which is latent: education then means drawing out the person's latent capacities for understanding and living, not stuffing [him/her] full of preconceived knowledge."  – Nachmanovich
Dennis' teaching style is simply to help the student discover the joy of music and to support their growth and knowledge accordingly.  He is of the 'teach a man to fish' philosophy and shows his students how to teach themselves!  Plus, the lessons are always hands-on and the academics of music are only taken in context of the music itself.
Whether you have taken lessons before or not, you will see that you'll be learning useful, practical things in a friendly, relaxed environment that will get you started on your own guitar journey, or help take you to the next level right away!