How would you like to:
– become completely absorbed in sounds that are scientifically proven to raise your body's connection to the Cosmic Energy Field?
– move and groove to the infectious live rythms of funk, reggae/ska, jazz and world music?
– learn to immerse yourself into sacred affirmations by learning them in sign language as well as singing them?
– get up on stage with the band and do sacred karaoke onthe mic or play a percussion instrument?
…and do it all in one evening?
it's all easy with Mantra Magic
Mantra Magic is a complete interactive immersion in the ancient healing sounds of Divinity to backdrop of fun, modern danceable music made by professional New York musicians.
We are happy to announce the release of our debut CD entitled "Ancient Nectar, Modern Vessel."
Listen to a preview of it here:
Ancient Nectar, Modern Vessel 2-minute montage play
TO GET THE CD:
for a physical CD, send $10 via paypal to dennis@denniswinge.com or email Damodar Das (DD@DamodarDas.com) with your mailing address.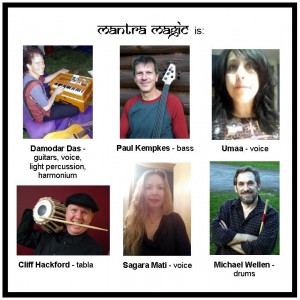 Background on the Band
A full-time jazz and freelance guitarist named Dennis Winge was living in the NYC area and played with musicians from bands such as BIlly Joel, Stan Getz, Paul Simon, James Taylor, Tony Bennett, Herbie Hancock. In 2010 he discovered 'bhakti' (devotional) yoga and began playing as a sideman at Kripalu, Omega, Ananda Ashram, etc. and was given the spiritual name Damodar Das ("servant of God").

Now 5 years later he lives in the Finger Lakes area of New York and leads weekly and monthly kirtans throughout the area. Damodar Das has released the debut CD of his electric kirtan band "Mantra Magic." The CD, entitled "Ancient Nectar, Modern Vessel," draws upon his extensive background in jazz, rock, reggae, funk as well as his love of devotional singing and his studies with teacher from the American Sanskrit Institute.
Click here to hear a radio interview with Damodar Das about Mantra Magic and kirtan (March 2016).
Mantra Magic also features vocalists Umaa, Sagara Mati, Ithaca bassist "Dr. K" Paul Kempkes, and percussionists Cliff Hackford, Michael Wellen, and Prem Katz.

According to Gary Goldberg, the ubiquitous spiritual DJ of chant music from "In the Spirit Radio" at WRPI in Troy NY, the band is "a fun, creative style of call-and-response sacred chanting infused with elements of jazz, funk, reggae, blues and Indian raga, masterfully crafted by professional New York musicians."
The CD "Ancient Nectar, Modern Vessel" is nearly 80-minutes of high-energy, fun-filled mantra magic!
Duo 5-minute video montage
Sound Samples:
Full Band 5-minute montage play
Duo 3-minute montage play
Om We are Divine Love play
Sri Ram Blues play
Ma Kali Reggae Dance play
Kali Maheshwari play
Shiva Shankara play
Om Namo Narayanaya play
Beacon of Light play
Jaya Gurudev play
Sri Krsna Govinda play
Ganesha Sharanam play
People's Hare Krsna play
—
"Mantra Magic" is a world-music blend of Eastern and Western instruments that feature ancient sacred mantras in a modern setting. The band's concerts are a spiritual experience in which uplifting music is infused with healing vibrations of the ancient language of Sanskrit, which was designed to harmonize with and energize the body on the physical and astral planes. The full 5-piece band instrumentation is tabla, guitar, acoustic bass, harmonium and 3 voices (one male, two female).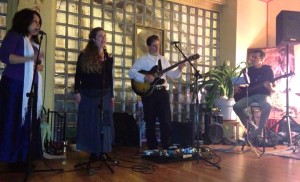 The lyrics celebrate the Divine, but "Mantra Magic" is not a "religious" band. In fact, its members honor all religions, and consider their music to be "omni-faith;" that is, open to all faiths and religious inclinations. Seamlessly fusing Western influences of jazz, rock, blues, and reggae with Eastern sounds of the tabla and the Hindu tradition of 'kirtan' or call-and-response sacred chanting, "Mantra Magic" also utilizes lyrics in English that reaffirm the Divine nature of all human beings in a relaxed, non-offensive way (such as "Om We are Divine Love" and "Beacon of Light.")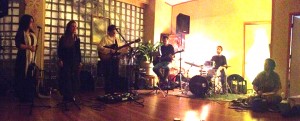 The founder of the ban d is Damodar Das (spiritual name for Dennis Winge), a full-time New York City jazz and studio guitarist for over 10 years. He fell in love with kirtan (call-and-response Sanskrit chanting) in early 2010 and has rapidly learned much about the sacred practice. He took a week-long intensive course with Durga Das (David Newman) at Omega in Spring 2010 in which he learned how to lead kirtan as well as memorized many of the Vedic prayers as well as the 40 -verse Hanuman Chalisa. In Fall 2010 he was initiated into Kriya Yoga by Shibendu Lahiri, great grandson of Lahiri Mahashay.
In 2011, Damodar Das completed a 30-hour training course with American Sanskrit Institute teacher Jo Brill, in which he learned to read 'Devanagari' (Sanskrit script) as well as understand and appreciate the nuances of Sanskrit poetry. Winge began experimenting with combining his extensive jazz and blues background with the sacred sounds of Sanskrit in his kirtans, and was gradually led to explore them with tabla, acoustic bass, and 2 female vocalists, which ultimately became "Mantra Magic."
—
Why Sanskrit?
Sanskrit is not just a language. It is a power. 'Its very alphabet is a mantra, a sound or phrase of spiritual significance and power' observes Dr. Judith Tyberg. 'The language is constructed in harmonious relation with the very truths of existence, hence its power of illumination. Sanskrit grammarians hold that every word or sound has a power. This intrinsic power can always convey the sense that is inseparably related to the sound… In the sacred Sanskrit scriptures this power was not only intuitively expressed but consciously wielded. And the power was not only of the human mind but of the Spirit.'
Sceptical minds may dismiss this as an offshoot of an enamoured Western mind or else view it narrowly in the light of superstitious beliefs, but it is only when one separates each thread which weaves together the intricate web of Sanskrit that one can fully comprehend the power it possesses.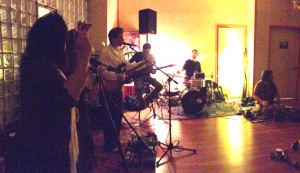 Sanskrit has grown and developed not only as a means of communication but out of a search for the true and the real. Its entire literature and indeed its vocabulary vibrate and pulsate with the many dimensions of this endeavor. In fact, it is commonly held that 'Sanskrit has more words for the Divine and more precise terms for deepening consciousness and meditative experiences than any other language' says Dr. Vyas Houston, who continues 'Ultimately ther is just one reason for our being here: to know who we are. And so long as one is engaged in the study of Sanskrit, the truth is unavoidable.'
Says Sri Aurobindo, 'Every one of its vowels and consonants has a particular and inalienable force, which exists by the nature of things and not by development or human choice. These are the fundamental sounds which…constitute the essence of mantra itself.'
(from "The Wonder that is Sanskrit" by Sampad & Vijay)
ॐ असतो मा सद्गमय
तमसो मा ज्योतिर्गमय
मृत्योर्माऽमृतं गमय
ॐ शान्तिः शान्तिः शान्तिः